16 DECEMBER 2010:


UPDATE: 12.10pm - Monty's Mum found him dead frozen under her car. I was lost for words. :( A simple funeral was held. Goodbye Jeremy~ http://crizcats.blogspot.com/2010/12/remembering-jeremy.html

UPDATE: 10.20am - 24 hours since I found him sick. He's still missing. :(

UPDATE: 9.40am - I'M BREAKING APART...

UPDATE: 8.12am - He did not greet me this morning. I'LL NEED A MIRACLE NOW! :(

UPDATE: 2.00am - Went out to check again with Janice. Still none! :(

UPDATE: 12.00am - Armed with torch lights... Checked the whole neighborhood with a friend. Jeremy not found. :(


15 DECEMBER 2010:

UPDATE: 10.10pm - Still no sign. I'm still praying and hoping... Don't let me down Jeremy...Sob~ Sob~

UPDATE: 8.07pm - More than 10 hours and still no sign of Jeremy back for dinner. I'm not going to like the sound of it... Where could he be?

UPDATE: 5.20pm - Went out checking the whole place for the 10th time by overturning whichever place he could have been hiding... NONE! He better come out from hiding fast before it's too late to do anything for him. It's getting late now. :(
I'm panicking here...it's a matter of life and death now but I can do nothing as Jeremy went missing before I could get him to the vet. I should have kept the main door closed. :( It was truly my mistake! 5 hours had passed but I could not find him in the whole neighborhood. Where could he be hiding? I really did not expect that a sick and weak cat can still linger out and hide himself away? Jeremy~ Please come home... you need to seek treatment immediately. Pleaseeee.....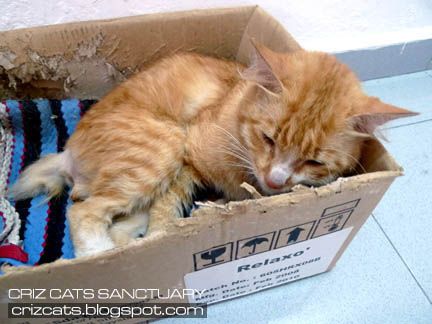 I felt something real strange this morning when he came hunting for me. Not his norm anyway. Suddenly, I felt that he became so lightweight overnight. While cuddling him, he looked at me with that teary eyes and gave out a weird sounding meow. That was really strange. Before I could put him down to check out what was wrong with him, he leaked on my legs... not once but three times and the smell was extremely pungent.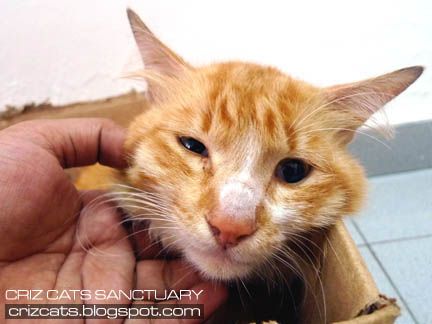 Immediately I laced a box and put him in there for inspection while taking some shots to be emailed to my vet before they are open for business. Gosh! He was still leaking and his anus was filled with bloody mucus-like liquid.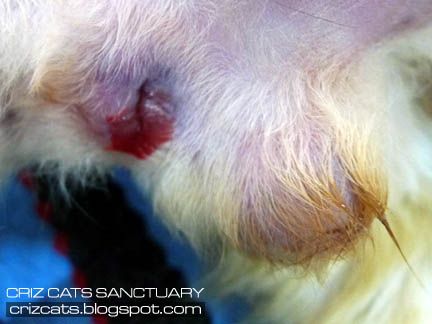 This was a sign for emergency but the vet won't be in until another half an hour. I quickly cleaned up all the mess, changed and planned to take him to the vet but he was no where to be found in the box, around the house and outdoor in the garden. I try seeking for him door by door in the neighborhood but there was just no sign of him at all. I'm really stressed out right now. I'm hoping for some prayers for his speedy homecoming and great health.