I'm sorry if this is going to be a short post as I'm still recovering from the exhaustion from my last dengue fever attack. It has been months and the post effect made me get tired easily. Running to and fro trying to coax Jimmy to eat and drink has never been an easy task. I guessed the change of environment and painful experience would have some influences over his usually big appetite. I could not believe how thin he looked now. Just 2 days plus at the vet by refusing to eat alone has caused him so much of weight loss. Is this my fluffy looking Jimmy now? Gosh! Big head small body~ Haiz~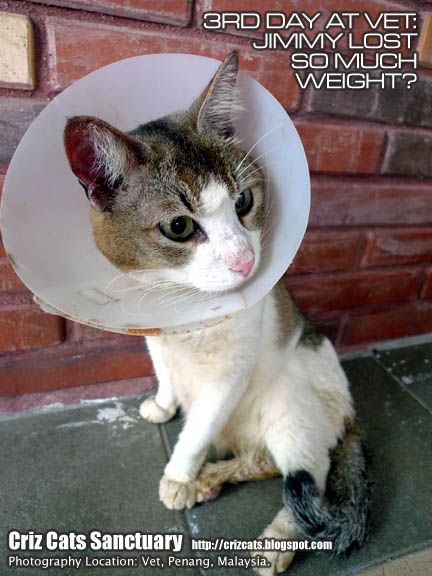 He constantly needed a short rest after roaming a short distance at the vet's. I think he's still tired from all the bladder cleansing processes.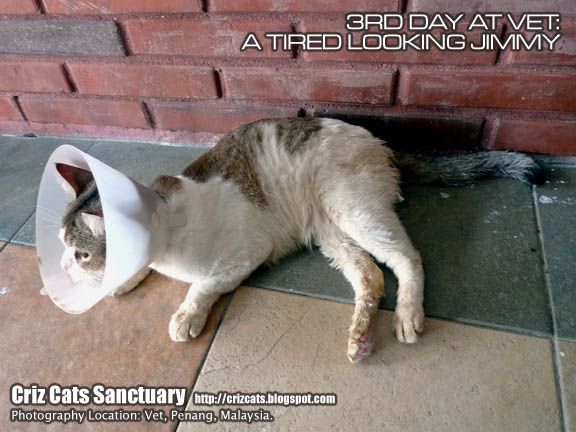 Well, he was still leaking. At least I did not see any blood in the urine this time. Thank goodness!
The good news was that he stated eating, not with the prescription diet at this moment but with some wet food. That was a good start. Let's hope he would gather more energy for a speedy recovery.
His next action was a good sign too. He started drinking some water. I guessed he stopped worrying about leaking endless and got his butt washed frequently. Jimmy actually hated being washed. I could still remember vividly how he clung onto my chest once during his bathing session. Well, that would be part and parcel of owning sharp clawed kitties~ LOL!
Anyway, thanks everyone for the concern, care, assistance, wishes and prayers during these few days. I appreciate it a lot. Although still weak from the trauma, he's getting better each day. Let's hope he can be discharged real soon. I don't think Jimmy would want to stay in a cage all the time when he can roam about within the house freely and in comfort. The rest of the J Family Kitties are missing him a lot too. His best time so far was having some freedom out of the cage in my presence.