The weather has been very humid with sudden downpours almost daily. The sick bug is definitely in the air. Mama Jessica has been down with viral infection for a few days now. She has been resting on my working table for the last 3 days without stepping out of the house much. Another load of her vomit was there again this morning. At least, she's still fine. What worries me most was Jimmy. After being treated for FLUTD 3 weeks ago, he too was having almost the same symptoms now… sleeping whole day, barely ate, tiredness all day long. Luckily, he did consume water against dehydration. This is how sick he looks now.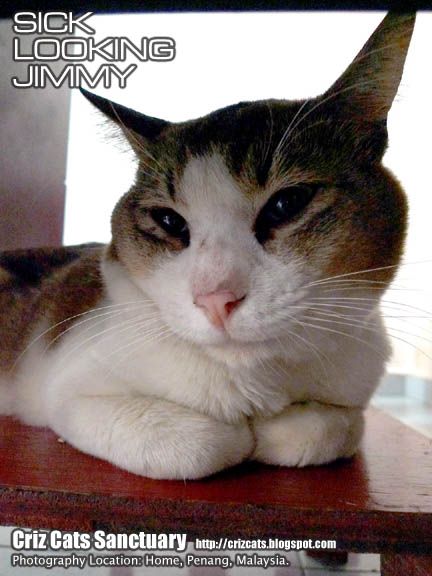 Another few minutes, I have to bring him back to the vet. I don't like the color of his urine… Deep Orange???? That's not supposed to happen, especially when he has been put on a strict Hill's c/d prescription diet. Let's see what would be the vet's diagnosis this time. I pray that it won't be anything major as I'm still having that acute piercing pain on my back. It's rather stressful here~ :(

UPDATED AFTER VET'S VISIT:
This is something I do not want to hear… Jimmy is having a very bad liver problem that may lead to jaundice, another scary illness that might caused death if left unmonitored. His urine test was really bad with his bilirubin level rocket high! Now, I'm super stressed out as he's refusing to take his medications and food. I have to find ways to force feed him or he would be forced to be hospitalized within the next 2-3 days.