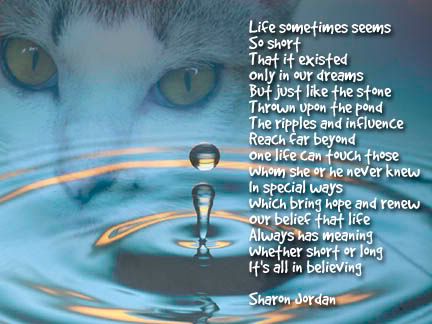 I hoped, I prayed and I tried my very best…
But you left with my most fearful enemy
none can avoid… DEATH!
Bringing you into the world with my bare hands
left many smiles and joy in my life…
Your every little moves and actions
made my life more meaningful…
Now what would happen to my faithful
alarm clock when you are no longer here?
Even your twin was not in best performance
ever since you left…
Twin connections… it's not a myth!
My sea of calm and tranquil water
is now filled with ripples…
Ripples from the endless drops of tears…
and they never seem to be able to stop…
Each drop represents the love I had for you…
It's for eternity…

R.I.P.P.L.E.S.
R

est

I

n

P

eace…

P

retty

L

ady…

E

ternally…

S

orrowlessly…
JOEY L.
22 June 2008 – 20 August 2009