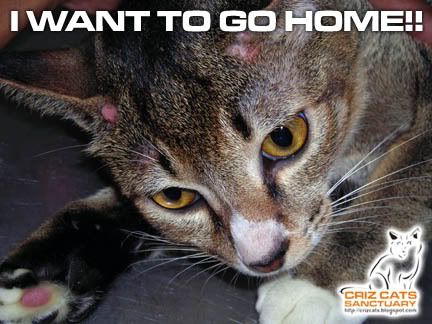 FOUR DAYS! That's one too many days Janice has been away from home. My girl is crying foul play now. What else could I do then? Nothing! I have been sitting down in daze and cleaning up the whole place all the time to keep my mind occupied from thinking all the worst things that might happen for Janice. One call from the vet this morning changed the whole moods in the J Family. Janice was cured from her bowel problems and has been eating quite constantly. It's great news for all but… she has to stay back a few days more to monitor her "horns" problem. Again, I stumbled onto my chair. "What? She has to stay for another few days? That would be terrible, not only for her but for me!" Haiz…

Before I realized what I was doing, I was already half way down to the vet's. When I was in the room, Janice was already on the table for more tests. You can feel what she was feeling then by the look on her face… fear… stress… and more. Even with my presence, there wasn't a smile on her face. She just wanted to go home but I could not allow that. She has to be cleared of whatever that has been bugging her.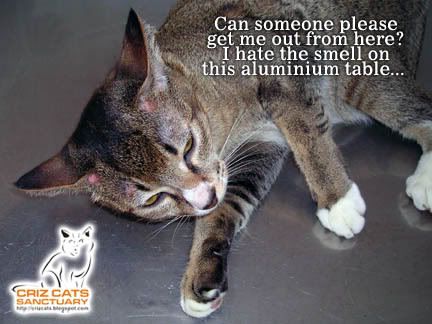 The vets did some tissue tests but found no infections or whatsoever that could have caused Janice to be sick. It's still a puzzle there. The "horns" were nothing more than some pinkish flesh popping out on her head without any reasons. They have also tried using many types of skin creams to treat the "horns". There were some hiccups there. The cream that they had used for her left ear managed to reduce the lump slowly but it had no effect on her right ear.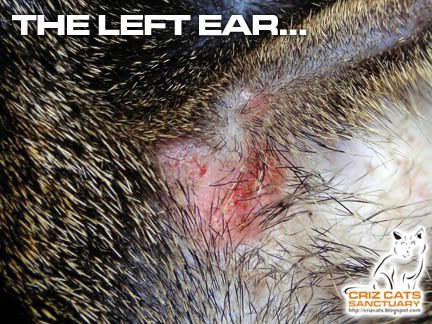 Her right ear "horn" was still big and red. In fact, the other one on the other side was getting a bit bigger each day. It does not look good at all. I'm still waiting for the vet's advice if it's advisable to perform some surgeries on that. I hope not as it would be painful for Janice as well as for my pocket. Haiz!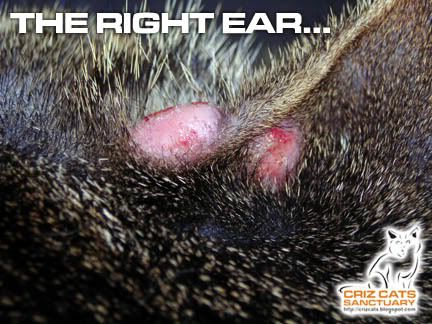 Now how am I going to face Janice when she eventually gets to go home?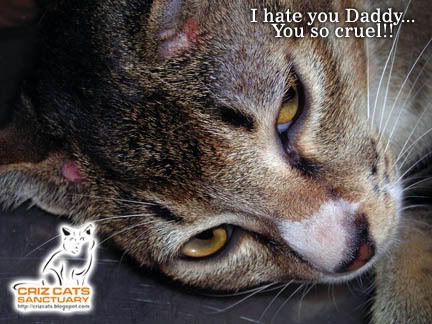 Note: Jeremy has recovered but Justin is still purging all over the house now not at one spot but many spots, even on top of my cupboards. :(