This week's theme is on
CHIPPED
.
Born as a stray, Mama Jessica had a bad experience
when she was barely seven months old…
She had a terrifying moment when she was attacked
by the neighborhood Mafia…
The result… a
CHIPPED
fang!!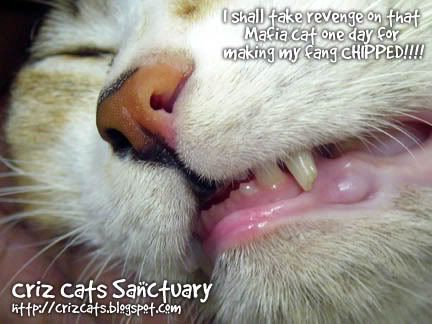 Just about a week ago, Justin had the same experience.
He was attacked by the same Mafia
and left me with blood stains all over my floor.
He's still recovering from the trauma.
That's the only good but
CHIPPED
claw left on him.
He lost most of his claws… Haiz!!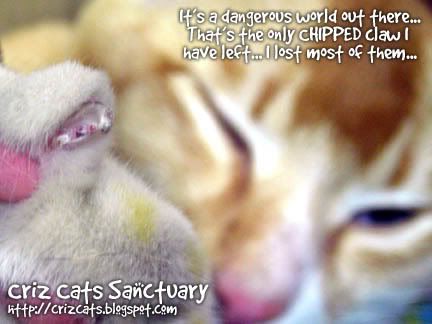 Jimmy had a totally different experience.
He
CHIPPED
his fangs because he has been too greedy.
As a kitten, he has been biting and chewing on
anything that he could get his teeth on.
As a result… he met with his greatest challenge…
Hard Chicken Bones
!!
Chicken bones could be delicious to most pets
but they have hidden dangers in them.
Just look at those
CHIPPED
and sharp edges!
One wrong angle when biting could be fatal…
THANK YOU FOR YOUR TIME AND VISIT!
TO THOSE WHO WILL BE CELEBRATING
CHINESE NEW YEAR THIS COMING MONDAY…
GONG XI FA CAI!!!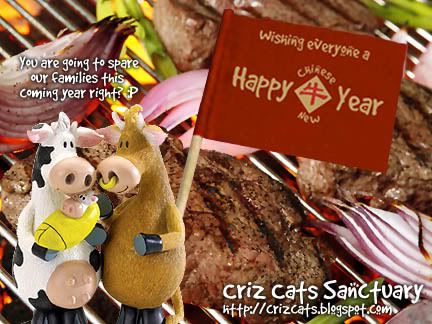 For those
PhotoHunt
members, please click Mister Linky above and enter your information for easy tracking.
Thank you and have a Nice Weekend!