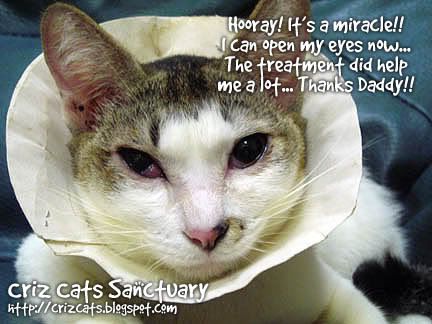 Some would say that it was sheer luck that I was saved from being blinded forever but to me it's the fast reaction of Daddy to get me back to how I should be. A miracle happened on the third day of my injury. I can open my eyes and see how beautiful it is in the house now! I was able to play chase with my bratty brother Jimmy today. Without your prayers and purrs, God would not have heeded my plea to be able to see once again. Thank you!

Wait a minute! Why is Jimmy wearing a paper collar too? I know we are both twins but it does not mean that he has to dress the same as I am. He's not even injured or sick!! Something must be wrong here… Daddy! Why is Jimmy wearing a collar too?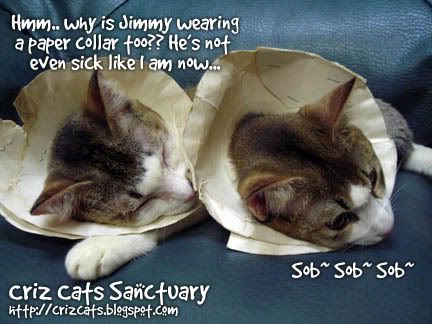 Aiks~!! Oh Daddy! Please don't take it so seriously! All he did was to chew up a tiny bit of my paper collar. He meant no harm at all as it's his usual cheeky self to play with anything.

I had forgiven him Daddy. Can you please free him from that dreadful collar? It's not comfortable wearing that collar. He should have learned his lesson well not to chew on anything in sight. Can you… can you… forgive him Daddy? Please…