I'm sure that some of you might realize that I have been rather busy and been travelling quite often out the state just to grab whatever job available just to make ends meet. The kitties indeed needed more for their diet since all of them are way past their adulthood. During most of the trips, I would meet up with many new friends, four legged and furry mostly. :P Somehow, I think I have the cat features in me (Is it?? Hmm… LOL!) that seemed to attract those animals to come straight to me, even without me calling them most of the time. The latest being about 55km away from my home state in a remote country side where population was rather low without much entertainment of course.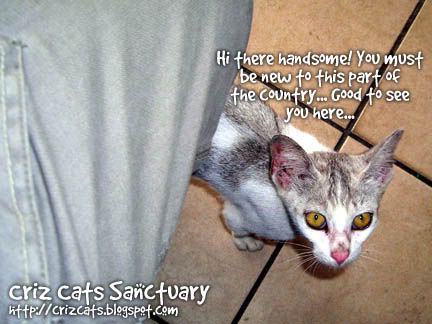 Most of the time, it would be just a stray or two coming forward to seek food but this occasion ought to get more attention as not only did this little cutie came climbing all over me asking for some attention, she brought the whole family along to beg for food. I just could not believe my eyes with the action of the 8 month old stray kitten. She climbed up my shoe with the pathetic look asking for food surrounded by her old daddy, partially blind mummy and a 2-month old baby brother. This is something I do not get to experience often. Who could resist such a cutie's request?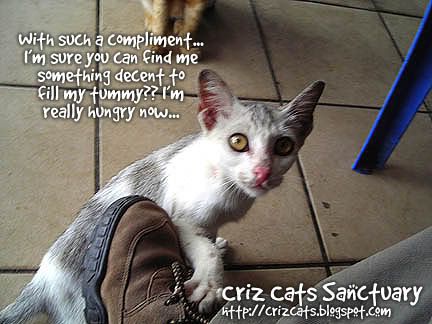 Although I was the talk of the town that evening due to my spontaneous action in feeding the poor strays, I just went ahead to do what an animal lover would do – feed them. The chef indeed was a bit pissed off with my action (as what most chefs would be if they knew I was to do that with their food. :P) but eventually he just gave me a faint smile without cursing any further. That's what humans should be… having a bit of compassion towards the needy animals sure won't hurt a bit.