This week's theme is
PINK
.
When you mention about
PINK
,
there's always something in this household
that would get every kitties excited.
It's the
PINK
bowl that I'll use to mix their food.
For the last 3 months,
I have been using this
PINK
bowl on a
PINK
plate
to mix two types of cat food (with a
PINK
spoon of course) for them.
They seemed to love this combination of chicken and tuna biscuits
more than the sole chicken biscuits pack
I had been feeding them for more than a year.
I guess I would also be bored with the same food each day too… LOL!
Anyway, candid shots can be taken almost nearing meal time
each day surrounding this
PINK
bowl…
It caught me laughing with these shots.
Joey could be real cute and hilarious at times…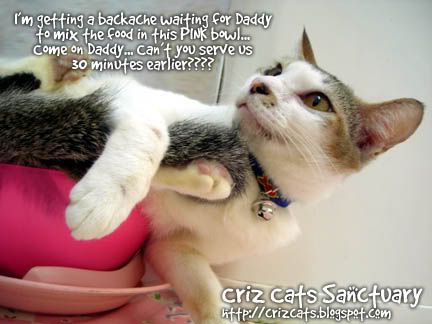 THANK YOU FOR YOUR TIME AND VISIT!

For those
PhotoHunt
members, please click Mister Linky above and enter your information for easy tracking.
Thank you and have a Nice Weekend!