The link above is where cat lovers all over the world gathered and share their updates on their pets on every Tuesday. Feel free to drop in if you are a cat lover.
The new stray (Jolyn) which I had decided to shelter since the last few days was still getting trouble trying to mix around with the J Kitties. I had tried bathing her with the same shampoo that I had used on the J Family but yet still no acceptance. It has been 4 days and I'm beginning to give up hope on what else I could do. Each time Jolyn is in the living room, the rest will scramble into the kitchen or upstairs to take their nap. Not even a single one of them would want to be near her. The only person giving her the much attention is still me. No wonder she's so attached to me now and would want to sleep anywhere near me… errr… or on me.
I felt so pity that not even the two youngest ones would want to play with her and she looked so bored. She has been trying to make friend with Jimmy by following him all over the house but Jimmy refused to accept her at all.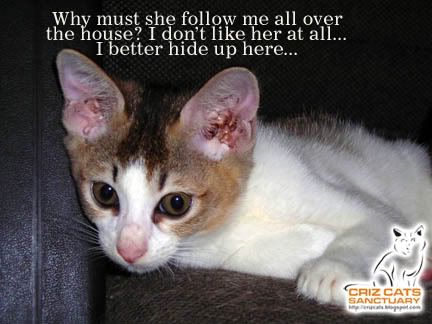 You can even see how Jimmy refused to accept her here in the video.

Jolyn would always sit in front of my main door scratching it in frustration. I think she got angry with how the J Kitties have been treating her.

She will beg me to let her out of the house. How could I? It's a dangerous world out there and the weather has been really cold with heavy downpours almost every night. I rather have her warmly in her bed daily.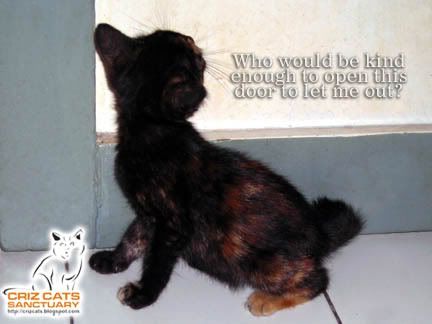 Haiz… Even the seniors wanted me to let her out. What else can I do? I had tried all the suggestion given earlier but not has worked out right. Help! Anyone in Malaysia would want to adopt such a lovable kitten?