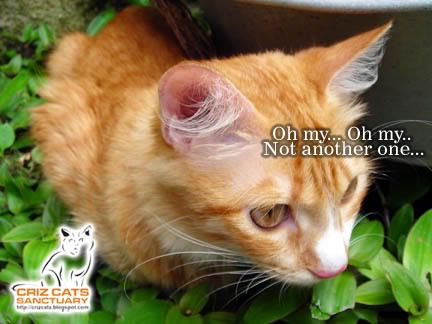 It really looked like my place is fast becoming a sanctuary for all
the strays
. I hope I won't land myself into many problems as I did overhear some of my neighbors complaining about the "bombs" all over the place. Although my kitties are all the time indoor, there were times some weird and unaccounted for animals would drop by for a visit even during the crazy hours of the morning, including bats. Some even came with "gifts" to show that they have visited the place. At times, you will see those "gifts" all over the middle of the road, right in front of my neighbor's house or on top of all the cars (damn fruit bats!).
With all those unforeseen incidents, I occasionally have to buy or cook something to bring over to my neighbors just to keep the relationships well. That's part and parcel of being an animal lover amongst those non-animal lovers. Well, I had another one yesterday which kept me busy from doing anything else as he was really in need of urgent attention… but I did what I could to ease his sorrow…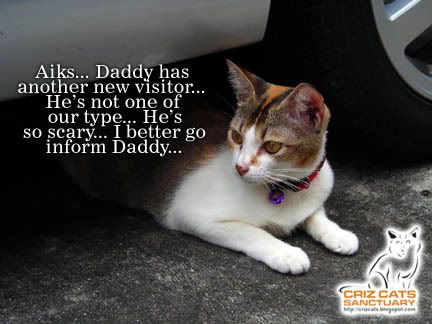 Gosh! I was still looking at
the signs
on my wall. Does that include feeding a puppy as well? This puppy is a total stranger to me as I have not seen him around this neighborhood. What wonders me is that how does he know how to come right up to my doorstep to ask for food? The worst thing is that his whole body was covered with skin diseases. How could anyone ignore such a cute little puppy?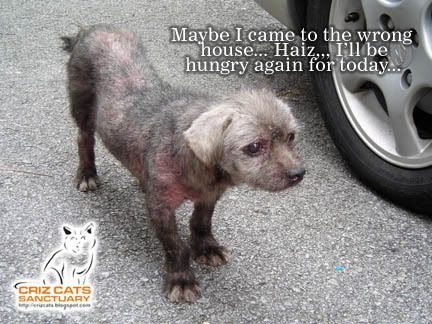 Luckily, I heard the kitties hissed loudly at him or else he would have gone away without me knowing about how bad his conditions were. He was in luck too as I have some doggy biscuits left in the house for the other stray puppies behind my house. When I approached him, he tried to run away but I managed to put out some biscuits for him to eat. He finished every bit of the food. How I wished he could have a better life instead of wandering all over the streets hunting for a home…

With all the hissing while he was eating, I don't think the J Kitties would have accepted him well. Even Mama Jessica was hiding under the car peeping at what he was doing. I just hope there will be more caring people around here. Haiz… I wished…