After posting up the article on
the begging kitty
, some readers had asked me why there were so many strays around here. I must say, it's due to the mentality of the people living in this country. It's not that we do not have animal lovers over here but most of them would rather own a pedigree rather than to adopt a stray from the limited animal shelters around here. Thus, you would see strays in practically all the states in Malaysia.
In my neighborhood alone, other than the 8+1 lucky J Kitties living comfortably under my wings, there were more than 50 stray cats and 5 stray dogs roaming about my high trafficked neighborhood. Of these alarming numbers, 12 stray kitties (excluding Panther who is getting a steady supply monthly) and 2 stray puppies have been quite regular seeking food from me almost daily. It's really tough for them to hunt for food except to dig into the rubbish bins and mess up the whole area. Some would even be abused for their actions when they did nothing wrong but to get some food for their ever hungry tummies. It's really a pitiful sight here to see their skinny and bacteria infected bodies.

Sometimes, I felt hurt inside for not being able to help them out. It was indeed beyond my means as well as my time. All these while, it has been my sole effort to help these poor strays. It should have been the efforts of many to keep the population down. I even got to find out from the local SPCA that you can even count the number of people with one hand, who were willing to help spay or neuter a stray. The fees even though being sponsored 50% by the SPCA with their limited funding would cost around $50 or more each. Moreover, I hated the idea of them cutting a "V" off the ears as tagging that the strays had been spayed or neutered.

Well, Janice almost had that experience if not for the help of
FOTCB
. Thanks ladies for saving her! Mama Jessica would have to get hers before this month end... hopefully. I do not think I would want get a football team in here. LOL! Anyway, I was to stop at EIGHT but now I ended up with NINE. A cat might have NINE lives but I have only ONE and it's getting tougher each day.
If you can see any Nuffnang advertisements below this post or at the left side bar anytime you are in here, please help me click on the ads for two minutes. At least 5 cents each click would help lessen the burden. Thanks!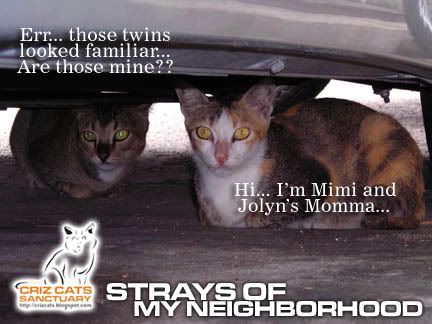 Anyway, I had a pleasant surprise yesterday. I had a visit from two of my past strays. One of them was Mimi and Jolyn's momma. Gosh! She's definitely a kitty making machine. I wish I can get her to stop there but how could she when there will always be a tom cat tagging along wherever she goes. You can even see a grey tom cat beside her. He is one of the two cats with that color around here and possibly the father to my twins Jimmy and Joey. I should have asked Mama Jessica about that. LOL! Anyway, both received the same treatment as the rest of the strays… some ocean fish biscuits and a bowl of clean water.