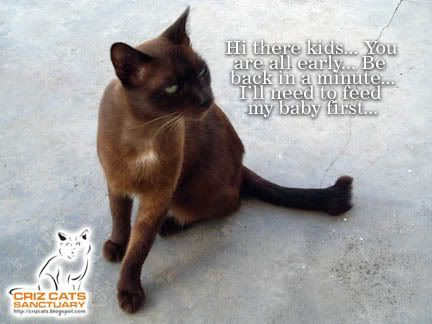 After a good night rest from
a tiring excursion
yesterday, Daddy decided to take us up to
Genting Highlands
for a day of indoor and outdoor theme park outing. We woke up very early to visit Auntie Sara who would lead us up there. As we were over excited about the trip, we visited Auntie Sara a bit too early. She had yet to feed our Cousin Nigel.
While Auntie Sara was feeding little Nigel, Daddy had his car engine and brakes check in order to have a safety trip up the slopped hill of the resort.

After driving halfway up the hill, Daddy decided to take the cable car up instead. We had a great view of the whole area while enjoy the cool breeze of the atmosphere.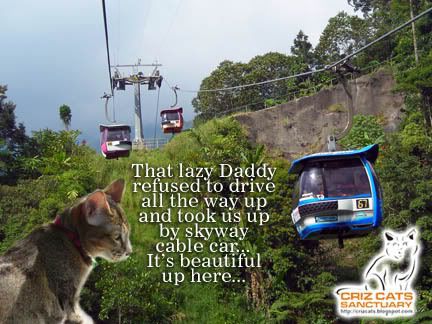 As we reached the top of the hill, we saw the outdoor theme park. It was huge with lots of big pools. Papa Jonathan warned us from being too mischievous during the trip as he would throw us into the pools if we were to misbehave ourselves. Grrrr… when was the last time you bathe Papa? LOL!

Since none of us wanted to be dipped into the water, we went into the indoor theme park. There were lots of amusement games and horror adventures around. Joey and Jimmy saw the indoor ferris wheel and begged Mummy to let them ride in it. Well, I think they are still too young to be in that alone. In the end Mummy said no as she was also afraid of heights.

After playing with some of the games, trying out some of the food and doing some window shopping around, it's time to go down the hill as it was getting dark. On the way back to Daddy's friend house, we met two new friends, Crunchy and Oreo. Both of them were very friendly. They came over to us and asked us where we were from. We told them we were from the Food Paradise of the Orient. They were drooling over how fortunate we were to have such a large family around.

Finally, we had reached home. Everyone were tired and jumped into our beds immediately. We had a night filled with sweet dreams and were looking forward to our next adventure…