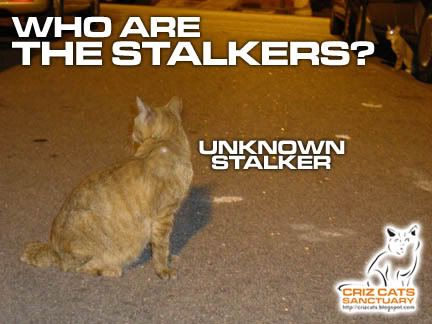 After a few days of lying down and out from the blogging world, I had decided to get out from my house for some fresh air. It was eerily quiet in the neighborhood. There were no moving vehicles nor was there any noise from the kids around the area. I did not know what made me took out my camera at 1am in the morning but somehow I realized that it had become one of the parts of my body. Maybe I was curious… curious to find out who has been eating the food I left outside in my porch area every night. I know for sure that two of them would be Mimi and her mother Mama.

Suddenly, I caught sight of another stalker sitting right in the middle of the road. From the look from behind, she looked like she's pregnant, which I think she was. Before I could see who she was, she moved under a car. I managed to take shot of her evenly colored fur. She was such a beauty.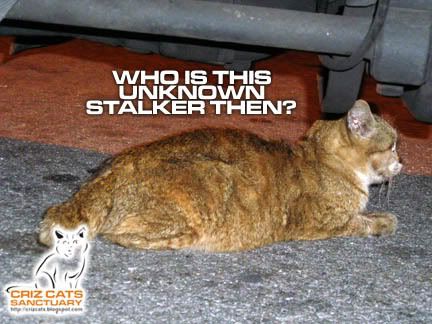 After taking a few shots of her, she turned around and gave me a tongue out stare. I almost fell down from the fright. OMG! What a sight! Did you see what I saw?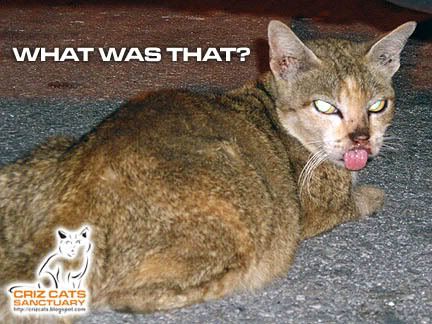 I would not have thought that I would see another badly handicapped cat in my neighborhood and there she was right in front of me. I thought when I had helped Alpha (Mimi's brother), he would be the last one. At least
his lips were within help
. Now how could I help one without a mouth? My heart just sank… I had enough of chest pain for the last few days and now it had just got worst. Oh God! Please spare these cats from more harm… please…