Time is precious and so is life. Every seconds and minutes in your journey of life will somehow bring in many sweet and bitter moments. Let them stay as memories and move on to be in the present. Living in the past would not help at all, neither will predicting what will happen in the future. If you feel like looking deep into your whole life, why not use the eyes of love to see how much love there is amongst the people surrounding you. If you have the eyes of love, which everyone does, you will eventually see love wherever you go. Spread your hands now to send some warm hugs and love to the person next to you. It may just brighten up the day of the person without you realizing it. This is my life philosophy and I hope that one day everyone in here would no longer be short of love.
Speaking of time, it moved real fast. Before I knew it, I had already come out with 12 issues of the CATSOPHERE magazine since its launch in March 2008. It started off as a cover magazine for the six J Family members. Eventually, it had spread wide across the whole world with new cover models. Just see the recap of the cover magazines and see if you know who they are. :)
As for this week's CATSOPHERE magazine, it's going to Egypt where Ana resides together with her two lovely brats, Chica and Pumuckl. This week's main cover model is Chica. Let her show you how fun it is to use Search Engine Optimization (SEO). What do you think she will search on? What else except on cats. She's one by the way if you can't decide whether her photo on the cover belongs to a cat or a bean. LOL!!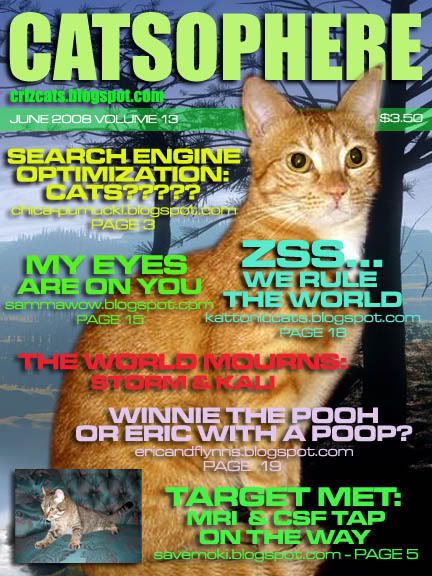 On the other hand, China Cat and Willow had their eyes stuck to the window panes for hours. You do not have to call 911 as there were no super strong adhesives on the windows. What could be so interesting that they will sit there for hours? Jump in and find out more.
ZSS?? What the … is that? Is that the name of a new terrorist organization? It has been known that they have been terrorizing the house until they have gone FLAT. Haha! Who are they then? It's simply our lovable gang members Zippy, Sadie and Speedy. Speaking about FLAT, there's something new in there that caught their attentions to terrorize next. Let's see what's their next mission is.
The Cat Blogosphere was rather quiet the last weekend with the lost of two of our cat members Storm and Kali. I guessed everyone was still mourning for the losses. Do try to pop in to give some moral support to the families if you have not done so.
You can imagine how happy the family members of Eric and Flynn were in after receiving the breaking news. Everyone was concern about Eric ever since he did not do his usual "poop"ing business for two weeks. Drop in and congratulate Eric on his "best performance". Haha!
Finally, with so much support from those kind hearted cats, kittens and beans in the whole cat blogosphere, Moki managed to meet his treatment cost target. Now he has the much awaited chance to do his MRI and CSF Tap scheduled on July 15th at UC Davis. All the best Moki! By the way, he will be having a party to celebrate this coming Saturday, 21st June 2008. Do not forget to drop in then… errr… anyone need any red marker pens to circle the date on the calendar? I have a few here. :P