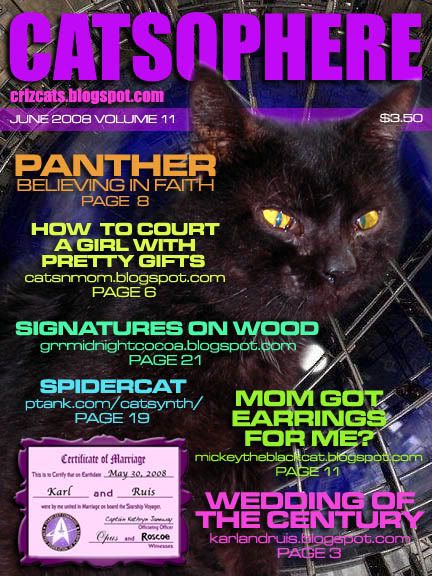 I was not able to come out with the CATSOPHERE magazine for last week as I was not in town to review some of the interesting blogs around the blogosphere. It seemed many things happened during my absence and most cats were busy preparing for Karl & Ruis's Wedding in space.
As for this week, Panther has appeared on the front cover proving that when you have faith and trust in someone, miracles can happen. Panther had a hard life having two major accidents in his life and he proved to us that nothing's impossible to stop him from staying alive. He has gone back home to the mechanic's place living his life as before. Both of us are in the midst of setting up safety measures to stop him from facing more danger in his life.
Do you know that sometimes it takes more than a dozen of roses to court a girl, even on her birthday? That's what Pepi did. Pepi had to add in more things in the gift package to impress her. Fish is surely a must :P Drop by to see what Pepi has been up to? :P
Have you ever wonder what will be the best way to replace old furniture when you are bored with them? Riley will show you how it is done properly with his experience with wood. Catch up with his advice. :P
There is a new super heroine in town. She can climb up anywhere effortlessly that way too high for a bean to reach. She is none other than Luna, the Supercat. Jump right over to catch her in the act now :)
Mickey got a shock when he saw a pair of earrings lying on the table. All that was in his thought was that his Mom would be taking him for ear piercing soon. Is that what the story is about? Why not check up with him to find out the story behind the earrings.
Now comes the best part of the magazine this week – The Wedding of the Century between Karl and Ruis. The reception was a success with both the couple exchanging their vows in space. The wedding was also a grand one with so many animals from all over the universe attended. Wow! Just look at their marriage certificate being signed personally by Star Fleet Command Captain, Cpt. Kathryn Janeway herself. Check out what they will be doing honeymooning in Ruis's hometown Netherlands until 12 June 2008.