After some thinking, I realized that something might not be right with wherever I am staying now. Of all the 12 houses along my street, why must I be the only one that has been getting countless of strays coming around for food and water? This is getting to be weird as I am getting around one to two new strays popping in each week. It really puzzled me. Did some of the strays really put up some markings as some of you had mentioned earlier or did I move into a house where it has been a cat's sanctuary for centuries? Even Mama Jessica was not happy with me at the rate I have been paying more attention to the strays then her J Family Kitties. Is there really some signs? I am not sure myself.

I spent some time during the weekend checking through all the possible signs around my garden to see if there were really some signs indicating that my house was the
FREE FOOD CENTER
in the neighborhood.
First, I checked my garden sofa which was badly scratched by my kitties as well as some of the strays which used to frequent my house. I do not think I see any signs there, do you?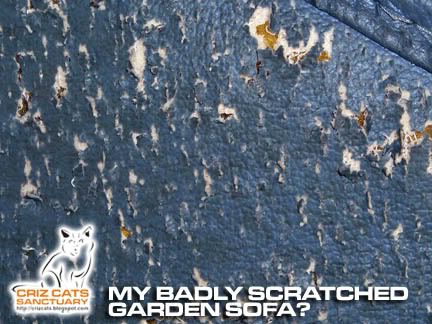 I then checked my garden gate. There were some scratches on the metal gate but I do not think that has anything to do the strays leaving some marks.

Since my house is the last house at a no-through road, I decided to check on the wall. There some scratches but it was done about 5 feet above the ground. Do you think these could be the signs?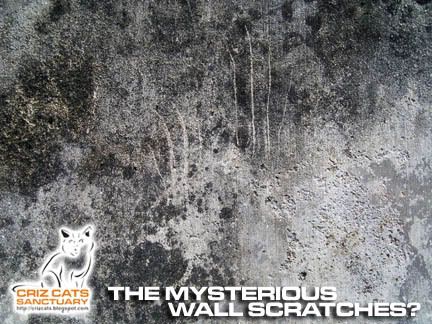 Finally, I checked on the rough part of the wall which has been there for tens of years. I noticed that there were some designs from the wear and tear of the weather through the years.

After studying the so called designs for some time, my hair stood up. I saw something mysterious that gave me the creep of my life. Am I imagining things or is that the signs I was looking for all these time? Those signs were right under my nose and I had never even taken a serious look at them after staying here for five years.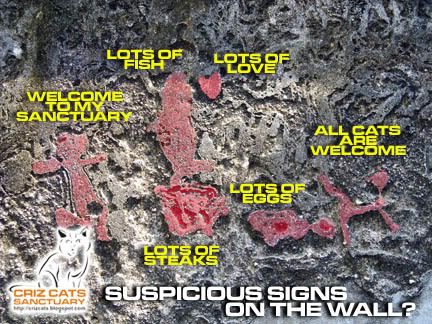 What do you think of the signs? Am I getting a bit wild in my imagination or I am fated to be
THE FOOD PROVIDER
for the strays for as long as I am staying here. I won't know for sure. What do you think?