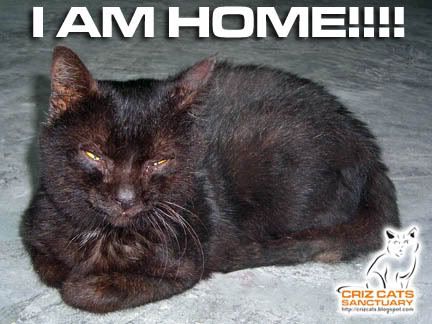 This is one of the great news that many cats, kittens and beans are eagerly waiting for. Panther is back! I knew he would be fine but I was too exhausted from my recent trip to have the energy to check on him yesterday. After struggling to dig out the last penny from my ever tight pants to pay for his RMx,xxx.xx vet bills (please fill in the blanks and the winner shall get a kiss from Panther), I finally got him away from his "hell" where he was encaged for two weeks. He was glad to see me there and was busy rubbing himself against my legs.
Now this is the hardest decision that I have to make regarding Panther. He has to be returned to the mechanic as I do not think my J kitties would want to have him back at my home. His smell from my pants alone is making them berserk and they kept hissing at me. Moreover, I do not have the time to give him my fullest attention. I wanted to put Panther up for adoption but the mechanic pleaded to me that he will give Panther the best alternative area that will keep him safe from any more harm. I hope he will come up with the best solution soon. Since it was already quite late at 6.30pm, Panther has to be kept indoor for the time being. I will be discussing with him later tomorrow on what he will be planning to do.
Here are some photos and a video of Panther enjoying his freedom and of course some afternoon tea.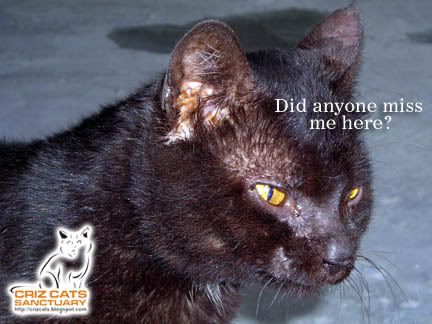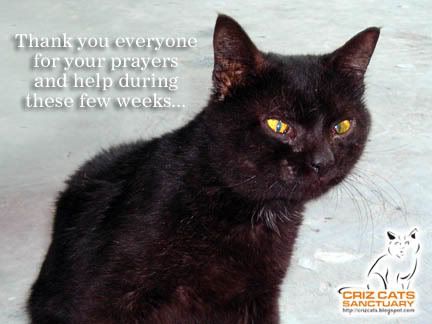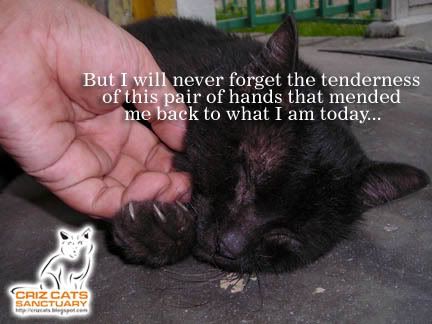 Back home with something nice and soft to munch. Afternoon tea anyone?