Tomorrow will be the first blogoversary of The Cat Realm. Karl will be holding a lizard BBQ party and all are welcome. You can drop by and enjoy the food (yummy lizards and bugs), drinks (Domaine Le Royaume De Chat 1996 and Lizquila Cuervo Especial) and party all night long with the No. 1 Cat Mariachi Band – The Los Gatos.
If you have caught any exotic creatures recently, you can always bring along and share with the rest. I felt shy bringing my big family of six to the party and decided to go lizard hunting prior to the party. We managed to corner that big lizard which scared the babies the other day and drag it along to the party. Unfortunately, it is too big for us to drag to the party and we required some assistance. Anybody is free to help us?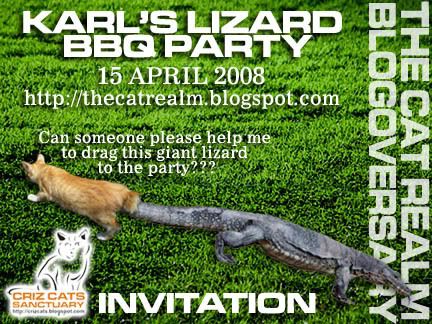 On the other hand, Princess will be celebrating her 17th Birthday. This is a very respectable age for such a beautiful Lady Cat. R will be celebrating the day with cakes and yummy bites. Can I have some too for my Daddy? Hehe…
Well, let's hope everything goes well for the family of Miral, who has gone over the rainbow bridge few days back. Don't forget to send over your comforts.