I guessed you do not need to guess after seeing the photo below. She is so famous in the cat blogosphere and everyone would love to give her a hug now. So, let us all remember to wish Princess a happy 17th birthday this coming Tuesday, 15 April 2008. It's not easy to stay so strong and beautiful at this age and she proved us wrong. Let's get her into the Kitties Book of Records for having the most wishes.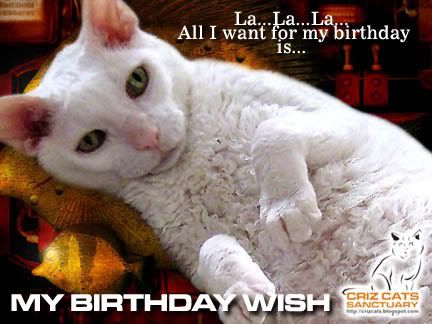 Now let us have some make-up fun in interviewing the birthday-to-be girl on what she is going to wish for on that special day.
Jayson: Hey Jeremy! What girl? She's a lady! Grrr… this small kit is bad in English.
Jeremy: What small kit? I'm going to be a man soon in 3 months' time. Don't you know that any woman would like to stay, look and feel young always?
Princess: **giggles**
Justin: Cut that craps you guys. I'm doing an interview here! Sorry about that Princess. Should we start?
Princess: No problem handsome… **giggles**
Justin: **blushing** Errr… How do you feel about turning 17 soon, my Lady?
Princess: Well, I feel really excited and happy of course. I got to see many young kits grew up to be really manly and pretty. You see this so and so…. blah... blah… blah… and more blah… blah… blah… **30 minutes later** Don't you feel glad to know so many cats and kitties in all these years?
Justin: Errr… Wow! That's a lot Princess. You covered your whole life's biography in half an hour. That was really very informative and I'm sure you have a lot of fans out there. **quenching his thirst with a glass of fresh milk** Can you tell us how you manage to stay so strong and beautiful?
Princess: That's my trade secret but I don't mind sharing some today with all the ladies out there.
Jessica & Janice: **eyes wide open and listen attentively**
Princess: First of all, you need to understand what any bean would look for in us. Do not ever and I mean ever let them caught you with a bad hairdo. We should groom ourselves at least 6 times a day, from behind the ears until the toes. Never ever step or play in dirt as it will stain the beautiful coat we have on. As for my remarkable fitness, I do not simply eat anything that the beans eat. Do you know that we are what we eat? Our choice of food should be of quality and vitamin enhanced. Catnip is a definitely not in my dictionary. Just look at that bean over there **pointing to Daddy Criz munching a bar of chocolate**. Can you imagine how much of toxic food he had put into his body? Look at his size… he's enormous! I won't want to tarnish my shapely figure with bean food.
Justin: **sweating** That's very nice of you to share the tips with us. Would you now like to share with us what you are going to wish for this coming Tuesday?
Princess: Well, I thought I wanted to wish for him to be back by my side but that's just not possible. Anyway, I have Pierro to accompany me now. Maybe I would wish for a trip to Hawaii. I longed to do that hula dance but I haven't been going out for a long time. It could be real boring doing nothing and sleep the whole day at home. I need to go out to see that world. Even Daisy has her personal pram and got her bean slave to take her sightseeing upon her demand. Why can't I? Should I get my bean to buy me some first class tickets to visit my feline friends out there?
Justin: Yea… you should Princess. This is just what my Papa Jonathan has been doing. He has yet to come back from his trip. I have a feeling that I'm going to have more brothers and sisters soon **banging the head against the wall**. Thank you for coming Princess. I hope that you will break the Kitties Book of Record this Tuesday with hundreds or thousands of wishes. Anyway, all of us in the J Family Broadcasting Corporation here would like to wish you a happy 17th birthday, Princess.