Most of us do not have the time to see what our cats and kittens are doing unless they are creating havoc at home. Haha! Have you ever wondered where they are and what they have been up to all the time? For me, I took some time off from my work for a few days and spied on the way they sleep. It's really hilarious seeing them sleeping at all the odd places at home.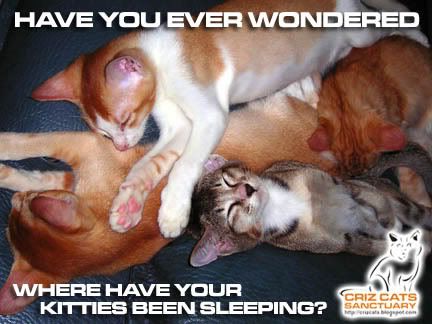 For Jessica, she like to take anything as her pillow, even a human :P She took my pouch as one few days back. I can see drooling at a time as if she was dreaming of more yummy food for her. Could it be the smell of the money in my pouch? It could even be the smell of my leather wallet which I have used for years.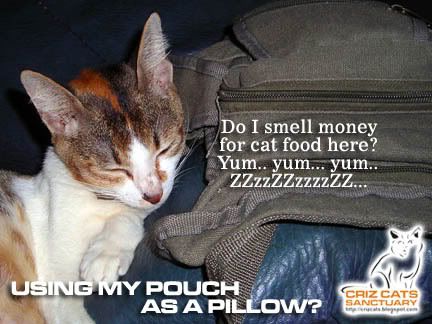 Jonathan on the other hand liked small closed up area to fit his ever fatty body. I got a laugh that he turned my overturn plastic stool as his favorite sleeping place. Thank goodness he did not ask me to lay some pillow in there for him to sleep on :P
Justin liked to sleep in dark hidden areas, especially when I have a piece of cloth of mattress in it. No matter where he hid himself, I will surely hunt down his hiding place. That's the reason he always hated me for intruding his privacy.
Jayson will sleep on anything that he find comfortable. I wonder why he chose to sleep on that narrow head rest of my chair (the one their parents snatched from me and passed down to them. :P). It looked rather dangerous for him to be up there too as he might fall down. Somehow my fear was gone when I saw that he actually clawed on tightly. Don't you think that's a weird place to sleep?
Jeremy is the recluse of the pack. He rather sleeps alone. I'm beginning to wonder if that the reason he pee and poop anywhere he likes because he refused to share any place with anyone else. I'm still monitoring on this. But of all places, he rather chose one of steps on the wooden ladder I left in my store area. Another weirdo in the process… Haha!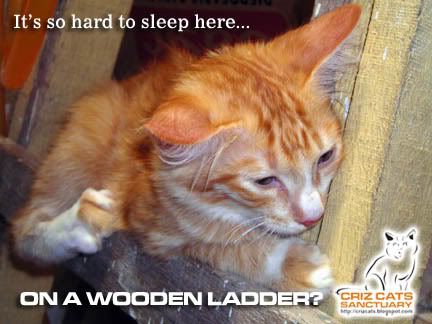 Gosh… this is one place I would never expect my smallest baby Janice to sleep in. I know she wanted some food but not that obvious to sleep in my bowl and waited for dinner time. I burst out in laughter when I saw her doing that. That's surely not the type of food I would consume, worst still it's CAT FOOD!! :P
These few days of shooting definitely were my most stress free days as I could not help myself from laughing nonstop. I hope my sharing here today will brighten your day too. :)