This week's theme is on TWIST(ED).
Lucky Bamboo Plant (Ribbon Plant) can be TWISTED
by rotating the plant towards specific light sources.
It will take time and patience to achieve this effect.
The Asians considered this plant as a Feng Shui plant,
believing that it will bring in good Qi (natural energy)
into a household based on its vitality and strong growth.
This is how beautiful it can be when some red ribbons
and ornaments are decorated onto the TWISTED stems.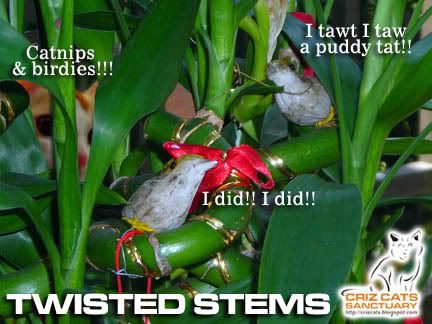 This TWISTED plant can shaped as though there are
some bamboo vipers twisting around the bamboo plant.
Sometimes, the growers will TWIST them like a pineapple (Ong Lai).
In Feng Shui term, pineapple (Ong Lai) means good luck is coming.
These TWISTED plants can be grown in soil or in water for years.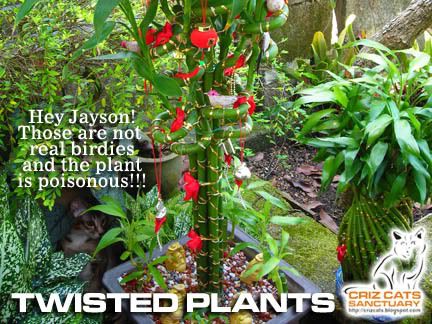 WARNING FOR PET OWNERS!!!
DO NOT LET YOUR PET TAKE THIS AS CATNIP OR CHEWPLANT
IT IS TOXIC!!!
Common Name: Lucky Bamboo, Ribbon Plant, Ribbon Dracaena
Scientific Name: Dracaena sanderiana
Family: Agavaceae
Toxic Principle: Saponins
Clinical signs:
Vomiting (with blood), depression, anorexia, hyper-salivation, dilated pupils (cats)
THANK YOU FOR YOUR TIME AND VISIT!
For those PhotoHunt members,
please click Mister Linky above and enter your information for easy tracking.
Thank you and have a Nice Weekend!