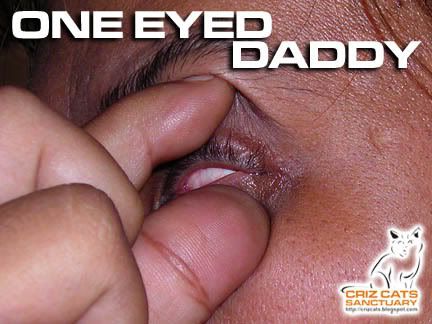 I was away for an appointment 150 miles away from home yesterday. Leaving the home at 5.00am and coming back 10 hours later was very tiring. I just could not leave the kitties at home alone too long without anybody supervising their ever chaotic behaviors. When I was back, I was so dead tired that I had slumbered onto my bed with the twins accompanying me to sleep.

It seemed fine to have them on my bed since they are still were barely a month old and they looked innocent too. I was wrong as things turned up to be the other way around. Those two were devils in disguise, especially Joey the hyperactive one. Before I knew it, someone clawed right into my eyeball. It has to be Joey as Jimmy was quite far away from where it happened.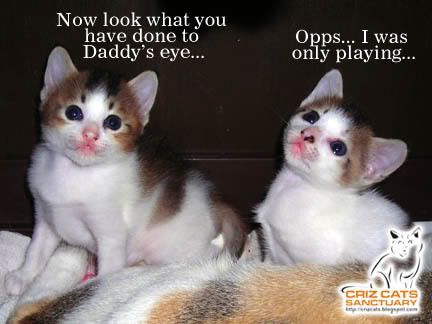 My left eye was still in pain and I have to bear with it until now. My appointment with my eye doctor an hour ago proved that I was lucky to miss the eye ball by 2mm. Now I have to be careful where those two "wild" kitties go as I do not want them near any "sensitive" areas anymore. Can you imagine me typing all these words with only one eye? Things looked rather blur here too. Well, I guessed this is part of the experience growing up with kitties of all ages.