The link above is where cat lovers all over the world gathered and share their updates on their pets on every Tuesday. Feel free to drop in if you are a cat lover.
I was just mentioning about
THE FREE FOOD SIGNS
on my wall yesterday and barely two hours ago, another stray kitten came knocking at my door asking for food and water. Gosh! Am I really destined to be the food provider for the strays?
The question is "Where did all these strays come from?" I have never seen some of them before in the neighborhood. Well, I have a soft heart even to the faintest purrs of a kitten in need. Of course, I did feed the kitten until her stomach was filled. But… sometimes I wondered if they were a bit too demanding. Why? Read on…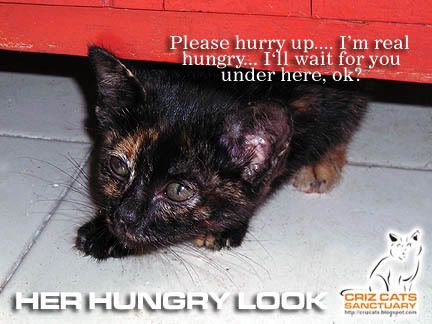 What should I answer? I can't say no as they would go hungry. I can't say yes too as there would be endless visits each week to burn a deeper hole in my cat food budget. I will just leave it to my destiny that more kind souls within my neighborhood will have more loves towards those strays…