The
baby stray
which appeared last week came back for some food and snuggles today. The first thing she saw me, she rubbed herself on my legs and gave me a soft loving bite. It was such a great experience to get that from her. After having her lunch twice (Gosh! What a big eater!), she wanted more attention and played with me before deciding to have a kitty nap on my safe little garden chair. She's a real cutie! While playing with me, I noticed the sad little eyes of her telling me how bitter and cruel her life was. I just sat next to her for two hours looking at her tiny little body as she went on telling me about her life journey into this world…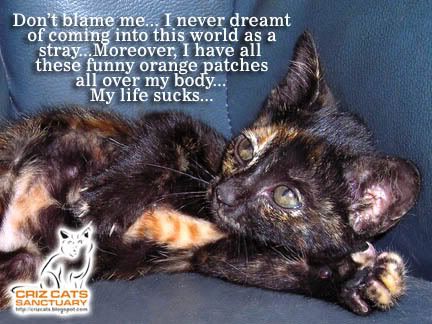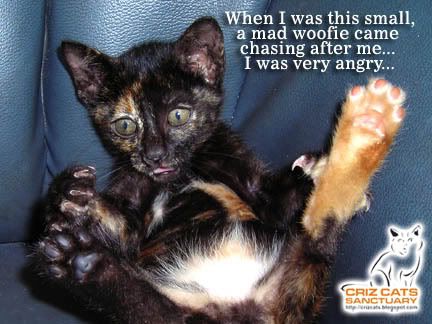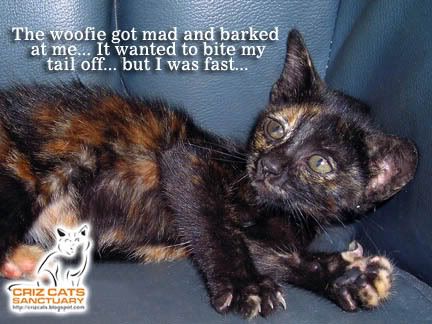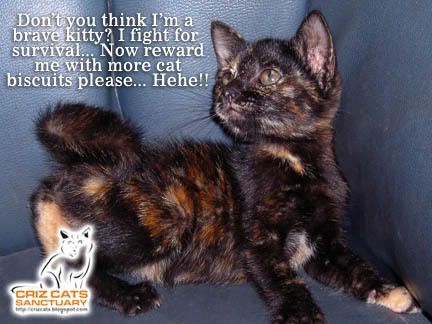 P/S: Although I have my hands full with the caring of the J Kitties, I have no choice but to temporary shelter this cutie as she was running around a heavy trafficked area where there were continuous flow of trucks, vans, cars and motorbikes passing by. I just could not bear watching her life ends under the wheels of those vehicles.
By the way, today is also the day the J Kitties as well as Panther would like to honor all the great things
Morgen (Mo) aka "Not The Mama"
has done for all those in need throughout the Cat Blogosphere. We love you for all the loves, hope and personal touches you have given to everyone. Thank you Mo!