This week's theme is on

CLOUD(S

).
I have been down with acute migraine recently,
and have been watching over my diet carefully.
One of the ingredients which I had used for my healthy
cooking included the

CLOUD

EAR FUNGUS, or
scientifically known as

Auricularia auricula-judae

.
This jelly-like fun fungus can be found easily
right after a rainfall in the woods.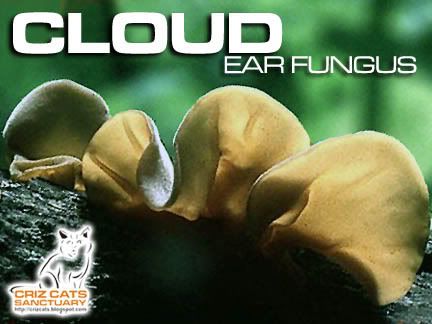 For centuries, the Chinese traditionally used
this

CLOUD

EAR FUNGUS in their cooking
as it is claimed to have medicinal values in it.
Some of the known uses included strengthening of
the body, hemorrhoids, hemoptysis, angina, diarrhea,
wading off gastrointestinal upset, diabetes, cancer
or even as a DNA repair agent.
The fungus can be easily purchased dried from any
of the Oriental shops throughout the world.
Here is a dried

CLOUD

EAR FUNGUS compared
to four times its size when soaked in water.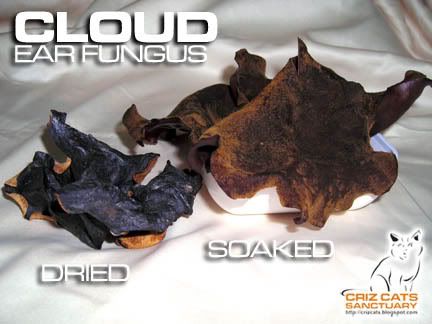 I would normally soak a small piece of the
CLOUD

EAR FUNGUS, some Chinese mushrooms
and stir fry them with sliced cabbage, carrot,
big onions, spring onions and some beaten eggs.
This is how it looked like.
I would also like to add it another meat
dish to complete my meal with rice.
What do you think of my Stir Fried

CLOUD

EAR
FUNGUS Mixed Vegetables and Tempura
Chicken with mayonnaise salad?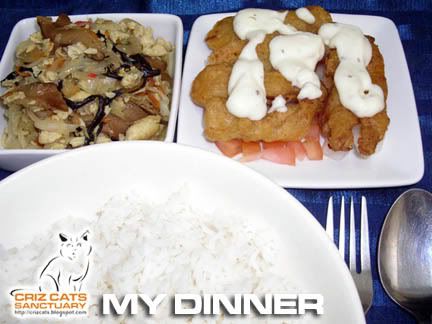 Oh oh… I better hide my dinner before any
of my J Kitties decided to take a piece
of the Tempura Chicken each.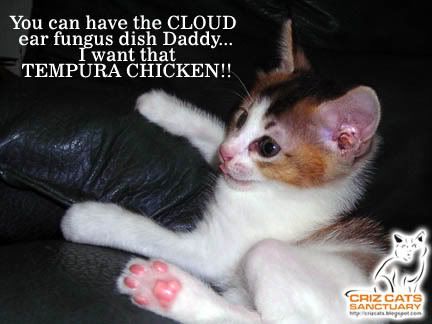 NOW YOU SEE WHAT I MEANT??
THANK YOU FOR YOUR TIME AND VISIT!
For those
PhotoHunt
members, please click Mister Linky above and enter your information for easy tracking.
Thank you and have a Nice Weekend!