The prices of food and fuel had increased tremendously for quite some time now and with that increase the cost of cat food had also shot up a lot. I used to buy packets of 1.5kg cat food for my babies previously but now it would be even cheaper if I were to get them a 10kg bag. At least I can save up around 40% of the cost if I were to buy them in small packages. Moreover, the J Kitties have grown up a lot and the two little twins were already munching cat food.

My 10kg cat food finally arrived yesterday. It was huge. While waiting for a friend of mine to loan me his sealing machine to pack the cat food into smaller plastic bag, I left the big bag in my living room. Thinking that it would be safe there, I went for a short nap. When I woke up, I was shocked as someone has been stalking my big bag of cat food. Who could it be? Every single one of the kitties gave me that angelic look on the face.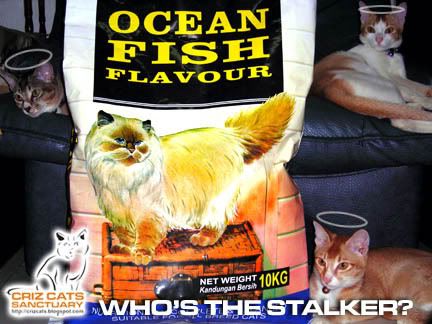 The packing was so thick and sealed so tightly and yet someone did bite some parts off. The stalker would have gotten into the content if I were to wake up half an hour later. Maybe the triplets, Janice, Jayson and Justin did since their Papa Jonathan has proven record that he could bite through steel wires but I was not sure. Could you believe that the stalker did this?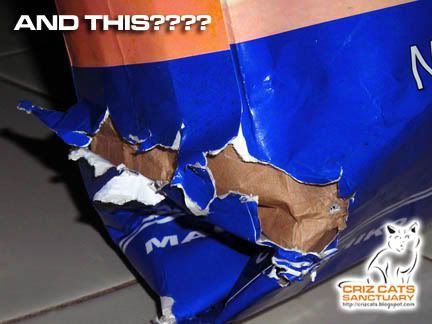 Although the twins did fight over the ownership of the big pack of cat food, I did not think that they could have pulled a stunt like that. They were still small, cute and angelic… at times. LOL!

While investigating the scene, I saw a familiar figure creeping from behind the cat food. Don't you think this look familiar?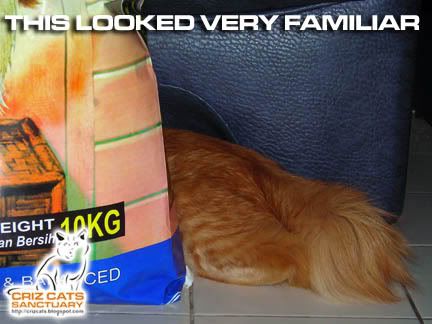 He even has the cheek to do it once again right in front of my eyes. Don't you think this look familiar too?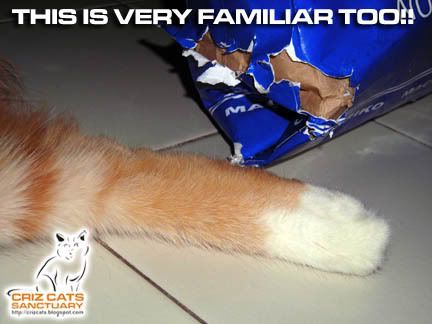 I wanted to catch hold of him and gave him a spanking but he gave me that guilty but pathetic look in his eyes again. Jeremy… oh Jeremy… Why can't you be as obedient as the others? This time, I forgave him as I understood that all the kitties are growing up fast and they will need more food.