Gosh! The last time I heard about them being naughty was when
Derby
had decided to teach them some manners. They ended up at
Moki
's place not long after but escaped again when they have spotted an open door. Somehow I am still pondering how they managed to travel all the way from USA to Malaysia. I guessed they would have smuggled themselves into our Malaysian Airline System cargo without anyone noticing them. Another mystery is that how did they manage to get my home address and moved into my home without me knowing. I have to check with my 8 brats on that as I saw them fiddling with my computer when I was sick last few weeks. Most likely it is Jeremy, the computer genius who was behind all this. Jeremy! Come here now!
Now I do not know what to do with the 34 of them. They were supposed to be trained well so that they can help other kitties in need during the process and be adopted into their forever homes. Even Jayson has been asking me what I should do with so many of them here.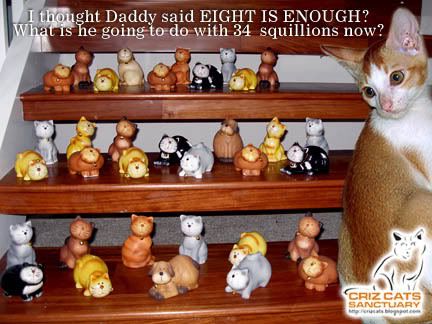 Hmmm… Maybe they had decided to visit the world before being stationed in their respective homes. Let me go and ask them what they had in the minds now. Maybe I can get some answers from them.

Now I have to organize a search party to find them. If anyone happened to see them around, please do inform us. We won't want them to be lost forever…