There are some new highlights this week around the CATSOPHERE. In case you are not aware that there is a cat community who share their cat news every Tuesday, you should sign up with CATS ON TUESDAY. This project is the brainchild of Gattina who owns two lovely cats, Arthur and Rosie. Just click on the logo below and you will be a step closer to becoming a member.
Summer is already here for certain countries and you will be seeing lots of new blooms and wildlife coming back into the place. Do check out Gandalf & Grayson's site where they are enjoying the nice view of geese coming back into the swamp area. The loud honking geese are cute to look at but would you wet your paws to give them a warm welcome?
It has been known that becoming a model is rather tough. Can you imagine the amount of time spent in grooming and involving in hours of photo shooting? Hop over to Adan * Michico to read more on how Adan became a model for the day. Will he become the next star in the CATSOPHERE? Check it out yourself!
Human are hard to please most of the time. What would you do to please them? Do you need to look cute all the time or you just need to get them into stitches on and off? Well, Janice managed to get me laughing at how she sleeps last few days. I do not know how she managed to creep into that facial steamer container placed so high up at my toiletries rack and slept in it for hours. She is definitely cute in my eyes. What about you?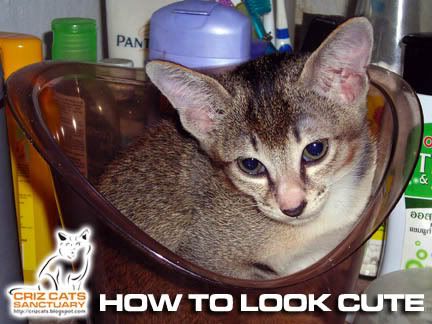 Having a place with lots of animals can be fascinating but how would you get your cats and dogs to become friends? Deana managed to get her woofies to make friend with her other furry balls. Check out how those friends spend their time together. They even went fishing together… I wondered if they caught any fish yet... hehe :P