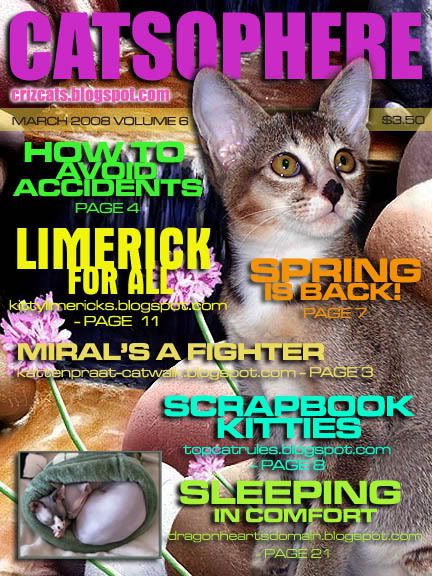 The cover model of this issue is Janice, the oldest of the triplets. You can see how healthy and energetic she is today after having fever during the last few days. She will be 3 months' old in a few days' time. She will tell you more on what happened during the last few days when she was sick. "Well, we have a few accidents and sickness here in the J Family. Who asked the boys to be so playful until they sprained their paws? Mama Jess on the other hand vomited but she's fine now. Jeremy is a bad boy. He still doesn't know how to pee and poo at the right place and he stinks!!" "Hey! Cut that out Janice! You are not supposed to tell others how bad your adopted brother is…hummph~~!!"
Okay, now back to this week's review. If you would like to know more on other cats and kittens' in the CATSOPHERE, do check out Karen Jo's site. She will write a brief on those cats and kittens accompanied by a limerick. She sure knows how to rhyme her kitty limerick perfectly.
Spring is officially back and most of the beans will have spouts and buds, birds and fishes showing up gradually. Some are still experiencing some snow but it would not be long before the snow will melt and greeneries spawn all over the gardens. Happy rolling on the grass then! :)
Almost everyone in the CATSOPHERE was very concerned over the health of Miral who was down with some heart problems. Fortunately, she is a fighter. She battled the illness positively and is now taking in some food to maintain her strength. Although she is still weak, her spirit of staying strong has never stopped. Go send Miral some purrs and purrayers to show that you care for her to stay strong.
Are you into scrapbook? Check out Leslie's site and see for yourself how well he did his cats' collections in a beautifully scrapbook style. Who said top cats can't rule in one of the beans' hobbies? In fact, he did even better than most of the beans out there.
The featured photo this week is on our famous Egyptian duo, Dragonheart and Merlin. They will show you how warm and comfortable it is to be in their own sleeping bags. In fact, they prefer to share the warmth in one sleeping bag. They sure look cute, cuddling each other in the bag.