Jonathan finally came back from his expedition this morning. What? Six days MIA without food and clean water? This guy is really crazy. I hope he did not get any diseases from that bitchy stray out there. The first thing I did was to get him into a warm bath as I mentioned in my earlier post. Gosh… the same old flea problems again? Grrr… two hours of bathing, drying and flea-pinching again! Well, since today is his special day, I just let him go without much cursing… but not for long… haha!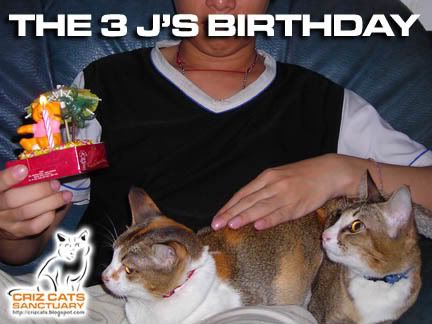 The most coincidental thing is that Jonathan and Jessica are sharing the same birthday as my god brother, JJ. See! Even his name starts with a "J"…haha! There were not much of celebrations, except that I got some cakes and held a small cake tea party. I am sure you can guess what type of cake I got for them. It is a mousey cake!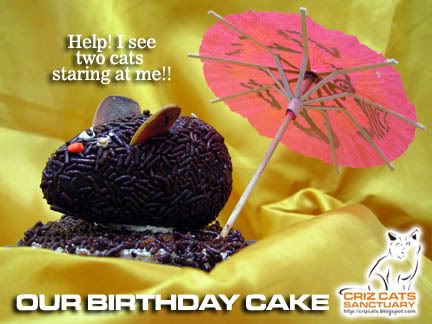 Did you all love your cake Jonathan and Jessica? I am sure they do at the rate they gobbled down the slices within minutes. Even the babies were enjoying themselves. Cecil did write an article on "how bad chocolates are to the health of cats and kittens" but I guessed once yearly on their birthday should not be that bad at all.

Anyway, Happy 1st Birthday Jonathan and Jessica! Happy 22nd Birthday bro!
Psss… Jonathan did get lots of presents for his birthday, I will mention about it soon. Do keep a look out for my updates. Have a great weekend and Happy Easter!