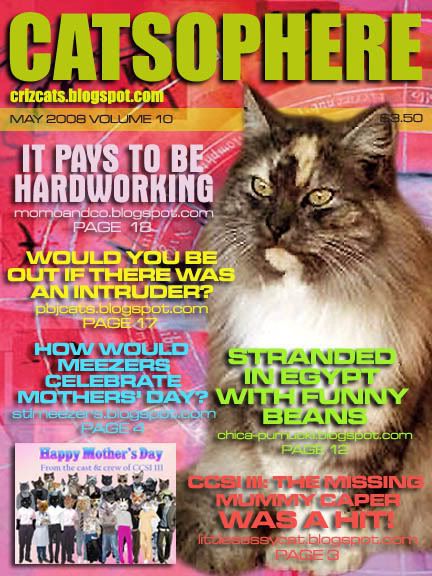 I hope this issue will be posted up as my internet line is still having some problems. I hope to get my new ISP up by the end of this week or so. It has been a hectic week for many out there as there were planning for my birthday, the launch of CCSI III – The Missing Mummy Caper and Mothers' Day. I had a tiring weekend too, considering that I have to cook dinner for 8 persons at my parent's place to celebrate Mothers' Day, not forgetting to my 6 other brats at my the own home. Hey, don't be surprised. I can cook too! :P I'm not going to share the yummy photos here since most of you have promised to stay on diet after the party, right? Hehe…Well, the food was not so special after all, they were just Japanese Fried Teriyaki Udon (noodles) with big prawns, shitake mushrooms and lots of vegetables, Shrimp Paste Fried Chicken Thigh, Grilled Pork Ribs in Tomato Wine Sauce, Stuffed Dough Stick with Salad Cream, and desserts such as Honeyed Sea Coconut with Lemon and of course a Homemade Apple Cheese Cake. :P Gosh… I see some of you drooling here... haha :P
Anyway, this week's cover model is Momo, the Marketing Executive for CCSI III. After weeks of working hard to market the production as well as corresponding with all the casts and crews of CCSI, she has decided to seek some tokens of appreciation for a work well done from her bean slave, SS. Check out the blog for more details.
Pearl, Bert and Jake, the PBJ Cats had problems trying to convince their parents to let them out of the house since an intruder came knocking into their area. Is the intruder a cat eater? Why would she be there in the first place? Jump in to find out more on what happened.
How would Meezers celebrate Mothers' Day? Check out the latest happenings in Sabrina, Sam and Simon's blog, the St. Louis Meezers to see what they were doing then.
What would happen if two cheeky cats, Chica and Pumuckl, were stranded in Egypt with the Pharaoh, Sphinx and two funny parents? You will end up having a funny family with endless of joy and laughs doing the Egyptian dance. ***playing "Walk Like An Egyptian"*** :P
Sassy and the Executives of Little Productions, had successfully released the latest CCSI series titled The Missing Mummy Caper. The show was a huge success with the involvement of many kitties, woofies and a wabbit throughout the blogosphere. If you have not seen the show yet, please do not miss the opportunity and jump into the blog right now. The show comes in Part I and Part II.
As the script writer of CCSI III – The Missing Mummy Caper, I would like to present this Excellence award to each and every one of the production team members, crews and casts of CCSI III for a job well done. Please feel free to grab the award from here and proudly display it in your website or blog. Well done everyone for such a great performance.
Do keep an eye on the future CCSI productions. Who knows, you may be turned into a star over night. Have a great week ahead! :)