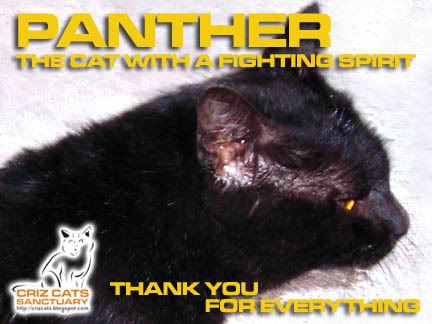 For more on what had happened to Panther and his previous progresses, you can read more in my earlier post "HIS LIFE COULD NOT BE ANY BETTER". I would also like to thank all of you who had given me as well as Panther some comfort, prayers, donations and great advices. You all have great hearts!
LATEST UPDATE: 18/5/08 6.50PM
I was supposed to visit Panther this morning but the vet was out for an appointment. Moreover, today is a Sunday over here and the clinic was closed. I waited and waited until 1.00pm but yet I did not receive his call. I almost blew my top as I had promise Panther that I would see him in the morning and I hate to break my promise. Finally, the vet called up at 2.00pm and apologized for his lateness. He had two more emergencies after his morning appointment. I forgave him. You do not usually see many people who are that committed and responsible as he is nowadays, especially on a Sunday.
I rushed over to the clinic immediately after the call and without even saying hi to the vet, I was already in Panther's recuperating room. The vet laughed at me and told me that I must have loved Panther a lot to just ignore him that way. Then only did I realize that I did not even wish him. LOL!
Anyway, Panther was still in a groggy state. His face was still swollen but not as bad as yesterday. As I was asking the vet about his progress while stroking him, I felt a soft tap on my hand. It was Panther giving me a hand shake and his tail was curling up a bit and swaying but with not much of energy. I almost burst in tears. He was conscious of my presence but without the ability to move his body any further. According to the vet, he tried to stand up this morning but fell down again after a few attempts. That's the fighting spirit I'm looking for in Panther and he sure has it still. But, I would still prefer him to lie down for the time being to get that fractured paw healed. Maybe, he was trying to hunt for me since I was not there in the morning as I had promised yesterday. I won't know for sure.
Based on the progress report from the morning, the swell on his face has reduced quite significantly. Thanks to help of the modern medication that was able to ease his agony. The sewn stitches looked fine as the wound had joined up quite well. His tongue was still a bit swollen but what made me happy was that he was able to consume more than what he did yesterday. 3cc of liquid food and 4cc of water were all he took in this morning. That was a good record so far considering that he was still having pain in taking in more food. Unfortunately, his body temperature was still on the high side. The vet is still trying his best to get the temperature down to the normal level.
Since the time I arrived at the clinic, it was also time to feed Panther more food and water. Surprisingly, he took in EVERYTHING without even dripping a drop. He was wonderful. He took in 5cc each of the food as well as water. I was impressed. That should be the way he should behave but that was all he could take in. After consulting with my vet, I also turned his body every half an hour and gave him some physiotherapies. Thanks Crystal of Save Moki for advising me to do that. I hope he will be in a better condition and can walk better when he recovers. What scared me is that when I tried to tickle his fractured hand, there was no response. The vet told me that it might take a week or so before he could really move his hand and the painkiller he was taking in may cause some numbness to his body.
When I left the clinic, Panther was fast asleep. I hope his temperature will go down by the time I see him again tomorrow. I shall not stop my prayers for his speedy recovery again tonight.