Gosh… I just came back barely a few hours and here I am busy with dozens of backlogs. Haha… that's life and I was wondering what will happen if I ever go for a long vacation. Well, it was the most tiring seminar that I had ever attended with hardly 5 hours of sleep for 4 straight days. Traveling to the seminar venue itself took me more than 2 hours. I did not expect the life in Kuala Lumpur to be so hectic and with so many traffic jams. I could not complain too as it was an intensive seminar for self development. It was so intensive that I did not even have much time for proper meals. Chocolate bars worked well. They were a booster for making me sleepier. :P Luckily I did bring a few toothpicks to keep my eyelids open. LOL!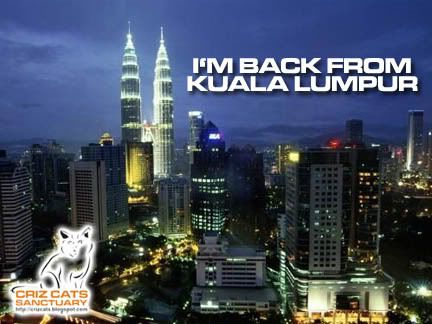 Moreover, the seminar was on a weekend and over 350 miles away when I should be spending more time with my J Family. I missed them so much that whenever I see a cat walk by me, I will call out their names. Could you imagine that I saw not less than 30 cats and my friends thought that I had gone insane? Anyway, I hope my lovable kitties managed to keep you all entertained during my week long absence. Just let me have a few days of good rest and I will be popping over to your blogs.
Here is just a short post to share with you how much I love them. What would you expect the J Family to get? It surely must be something starts with a "J" too. Haha! They were having J.Co Donuts "Cheese Me Up" with melted New Zealand cheese on top for breakfast.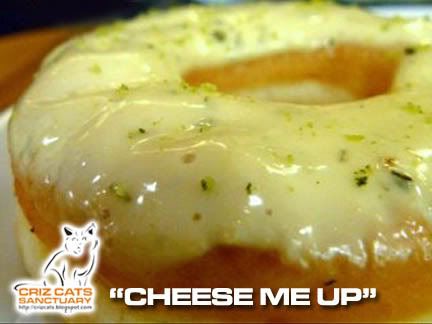 Haha! What a bunch of pampered kitties. If only they knew I had to queue up an hour just to buy back a few for them. Phew… luckily all of them were enjoying those donuts.
As for Panther, I managed to call the vet almost everyday. Unfortunately, I could not get the opportunity to pop in a cyber café to even check my mails. He missed me very much and was not eating well. Other than that he was recuperating rather well. I hope I have some energy left to visit him later this evening as I prefer to have first hand report rather than through a phone call. So, catch up with you all later. ZZzzzzZZzz…
Anyway, I would also like to congratulate Karl & Ruis a happy wedding on 30 May 2008.