Count down … 2 days more before the surprise party! I am think I have been taking things for granted all these while. All know is to eat, sleep and enjoy my life away without thinking how much work Mama Jessica had to go through daily. I had just help in cleaning up one utensil for the party and I am dead tired now. Can you imagine the amount of utensils we need to clean up in preparations to the party?
No doubt there would be about 20 or so guests coming but we still need to prepare more in case some popped up unexpectedly. I heard there would be some beans gate crashing too. Let's hope they would not have too big an appetite to gobble up all the food… haha. Well, since I am done with the cleaning up, I might as well spend the rest of the night cleaning myself up too. Yawn…I really need some sleep now.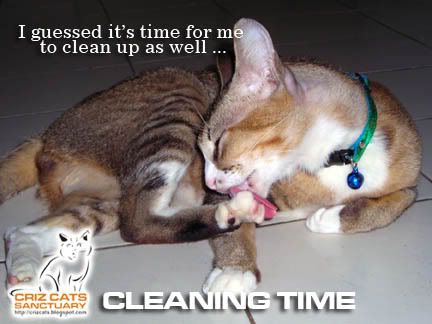 Can you all guess what I had just help to clean up? This is something that everyone would love to have and try out during the party. The first one who guess it right will get to eat more during the party…hehe :P
If you are attending the party but do not see your name appearing here in Mister Linky, please fill it up. I would appreciate it a lot. Thanks… Jon.