Daddy has gone outstation to attend a seminar this afternoon. He would not be around for a few days. What should we do? Haha… We would take over the house… take over the computer and…
Janice: How are we to have a party when the babysitter is around? We are not babies anymore you know? Guys…you better think of something fast!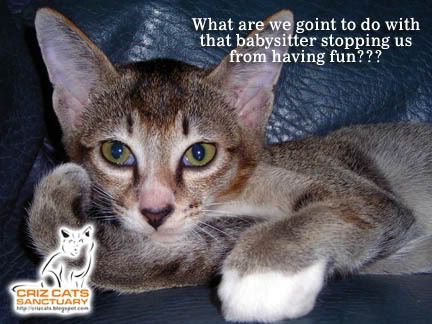 Justin: Should we create havocs in the house until he runs away?
Jayson: We could but what should we do?
Jeremy: I can always poo and pee there until he couldn't stand it. Hehehe…
Janice: Oh no Jeremy… you want your butts get sore?
Jeremy: Errrrr… better not. Let's think something else.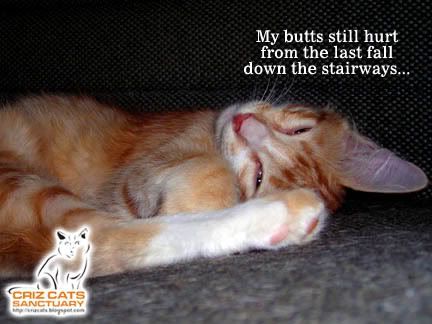 Justin: We could jump here and there, run up and down the stairways and make lots of noises.
Jayson: Aren't you two afraid of getting your paws wrapped again just like the last time? You forgot that you two played so roughly until both fell down the stairways?
Janice: Haha… I remembered that time. You two looked so funny.
Jeremy: Yea funny and I can still feel my butts hurting now.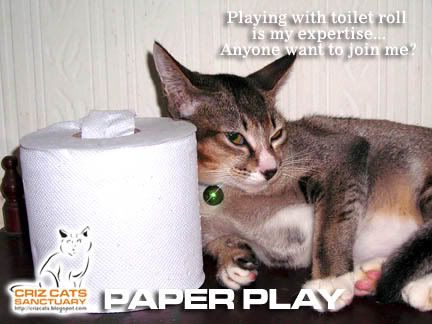 Janice: Hmmm… We could play with this toilet roll. It was fun the last time when Daddy went out for a short while.
Jayson: Hey! That's a great idea! Kick that toilet roll down Janice!
Justin: Eeeee Hawww… Here comes the Lion King, preying on a helpless toilet roll.
Jayson: Don't tear all Justin. Please leave some excitement for me too.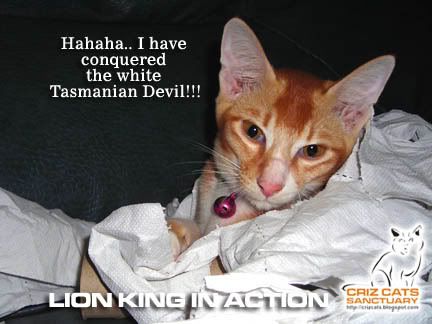 Babysitter: Arrrgh… What do you think you kitties are trying to do? I'm going to tell your Daddy about this!
Janice: **giggling** See! I told you he still thinks we are babies. As if we do not know Daddy won't be in for a few days?
Jayson: Just ignore him. He is our slave these few days anyway.
Jeremy: Let's continue with our play. Justin… take this!
Justin: **tearing the toilet roll into more pieces** Growl~~
Babysitter: Now I had it!! Who volunteer to get whack on the butt first?
Justin: Aikss… This babysitter is fierce!
Jayson: I think we should scam!
Jeremy: Oh oh… I think he meant it! Just look at those fangs of his! Arrrgh… run!!!
Janice: Gosh… where did Daddy get such a Godzilla. He's tough! The last one was easier to chase off.